NVIDIA is the pioneer of GPU-accelerated computing. It specializes in products and platforms for data center, gaming, professional visualization, automotive, and IA.
Founded in 1993, Nvidia relies on the growth of the PC market as a must-have for gaming and multimédia. Nvidia is a learning machine that constantly evolves by adapting to new opportunities that are hard to solve.
• 1995: 1st product launch NV1
• 1997: launch of the RIVA 128, first 3D CPU 128 bits
• 1999: invents the 1st GPU: Geforce 256 (10 million polygons by seconds vs. Nowadays more than 7 billion/s)
• 2006: Cuda architecture, allows researchers to take advantage of GPU parallel processing capabilities to tackle the most complex IT challenges
• 2012: 6th of the US greenest companies :
• 2016: Introduces first products for AI and autonomous driving
The way data are collected and managed brought back vectorization in the heart of applications. The evolution of image processing and the growth of centralized infrastructure for gaming challenged the GPU market. To meet the growing needs of computing (scientific computing, 3D production, visual effects, render farms...), while slowing down of CPU scaling, we have chosen to partner with the innovative leader of the GPU.
As 2CRSi says "dream big, we'll make it come true", Nvidia is leading by the innovation, solving problems, and focusing on environmental impacts.
HPC & Artificial Intelligence
The advancements in AI give the tools to solve many problems: cure diseases, build smart cities or create more value from data in every sector: transportation, financial services, Energy, healthcare, science, Manufacturing…
The GPU is the most efficient technology for parallel computing, needed by AI, Machine learning and Deep Learning to learn search and solve problems.
The GPU parallel computing facilities accelerate scientific calculations and simulations while reducing cost.
Rendering
Designers and artists across industries can bring state-of-the-art rendering to their professional workflows:
• Architect, Engineering and Construction
• Product Design
• Media & Entertainment
Unprecedented realism thanks to database designed and verified by Nvidia. A large panel of tools and graphics applications for digital artists to create 3D modeling and visual effects. Accelerate your prototyping workflow and decision making for the fastest go-to-market.
Cloud gaming
The world and the use of digital is evolving, while the requirements to run applications are rising; Gaming, Virtual desktop, multi monitors, web conferencing
Cloud infrastructures facilitate collaboration across geographies with same computing power as a workstation: from remote office workers to engineers that need to work from anywhere.
Optimize your gamers experience while gaming performance and users are scaling (link to Use case Blade to come)
Edge computing and telco operators can deliver low-latency AR/VR and game streaming over 5G networks to delight hardcore gamers.
2CRSi is certified Solutions Integration Partner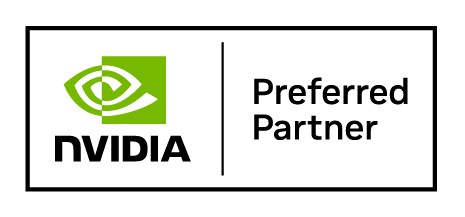 for Visualization, NVIDIA AI and Compute